Frida Kahlo's mole recipe is almost as famous as her paintings. Frida is one of Mexico's most well-known artists. She even appears on Mexico's most valuable money – the 500 paper note. On the other side, her equally famous artist husband, Diego Rivera. While he was known for his murals and womanizing, she was recognized for her self-portraits. Her art captures a range of experiences in her life – many agonizing as her life was at times.
"Frida Kahlo was a Mexican painter, who painted many self-portraits. Inspired by Mexican popular culture, she employed a naïve folk art style to explore questions of identity, postcolonialism, gender, class, and race in Mexican society." Wikipedia
Frida celebrated life with art, food, family, and friends. All four often came together in her home – which is now her museum in Mexico City. There she threw dinner parties where she often served her recipe for Mole Poblano.
Frida Kahlo's mole recipe has been popularized by Museo Frida Kahlo, also known as Casa Azul. It is this kitchen of her childhood home where the recipe can be found written on the walls. Repeated in kitchens around the world by her fans and tourists, you'll be glad to add this authentic mole poblano dish to your repertoire of Mexican cooking.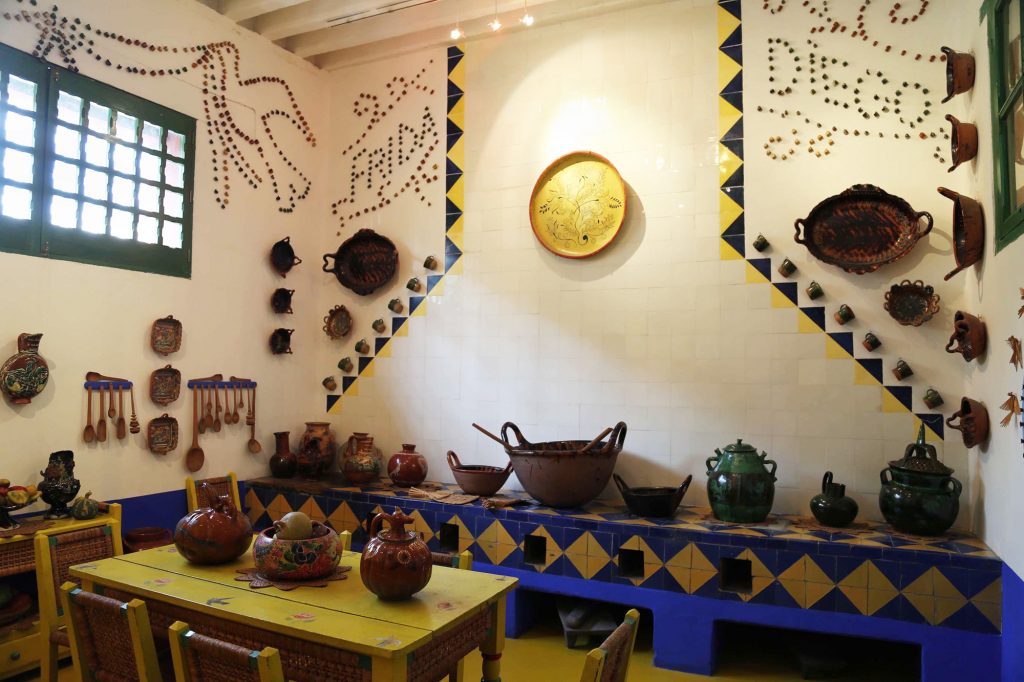 The artwork of Frida can be viewed at the Frida Kahlo Museum in Mexico City. The museum, known as Casa Azul, brings you into her old home. You'll find the museum in the beautiful neighborhood of Coyoacan. You can also learn more about her life and artwork through many available books.
Try making Frida Kahlo's recipe for mole below.
Frida Kahlo's Mole Poblano
Frida Kahlo's Mole recipe has been popularized by visits to her kitchen in Mexico City (La Casa Azul) where her recipe can be found displayed on the wall.
Ingredients
250

g

1/2 lb. mulato chilies (remove veins and seeds)

350

g

3/4 lb. pasilla chilies (remove veins and seeds)

350

g

3/4 lb. ancho chilies (remove veins and seeds)

250

g

1/2 lb. lard

3

medium-sized cloves of garlic peeled

2

medium-sized onions diced2 hard tortillas broken into pieces

½

dried bolillo like a French bread roll

60

g

2 oz. raisins

125

g

1/4 lb. almonds

6

tablespoons

of pepitas de calabaza pumpkin seeds

125

g

1/4 lb. sesame seeds

1

teaspoon

of anise

2

cloves

1

stick of cinnamon

1

teaspoon

of black pepper

3

tablets of Mexican chocolate or to taste

150

g

1/3 lb. tomatoes (peeled and diced)

Salt and sugar to taste

1

large turkey cut into pieces and cooked in a soup made with carrots leek, onion, a stick of celery, parsley, a clove of garlic (turkey can be substituted with four chickens)
Instructions
Heat 150 grams (1/3 lb.) of the lard and quickly sauté the chiles. Transfer them to a ceramic pot with boiling water to soften them.

In the same lard, sauté the garlic and onion until golden brown. Add the tortillas, bread, raisins, almonds, pumpkin seeds, and half the sesame seeds, the anise, cloves, cinnamon, black pepper, chocolate, and tomatoes and sauté them well. Add the drained chilies and sauté a few more seconds. Put the entire mixture in a blender with the turkey broth and strain it.

In a large ceramic pot, heat the rest of the lard. Add the sauce and allow the mole sauce to boil for 5 minutes, season with salt and sugar (it should be a little sweet). Add more broth if necessary, it should be a thick sauce. Let it boil for 20 to 25 minutes over a low flame. Add the cooked turkey pieces and let it boil for five minutes more.

Serve it in the same pot with the rest of the sesame seeds toasted and sprinkled on top.
Notes
This recipe may take 6 hours to a full day the first time you make it. It's a great weekend cooking project. With time, as you learn the techniques, you'll probably get it down to a few hours.