Mole Negro is a traditional sauce from Oaxaca, Mexico. Black mole is one of the most noteworthy moles. Reserved for special occasions, this recipe uses an abundance of ingredients and time-consuming techniques. The deep colored sauce is as rich in flavor as it is in color.
Complex flavors are developed with complex cooking techniques. It is common to toast chiles over fire to bring out their flavor. Sometimes seeds are reserved and toasted on the comal.
Mole negro takes toasting further. The process uses an unique technique to burn the chile seeds. The seeds release their oils as they are toasting. After a few minutes, fire is set to the seeds. They continue to burn until black. Watch the video below.
Mole Negro in Oaxaca
While traveling in Oaxaca, I met two women huddled around a grave in the cemetery. I was there for the holiday Dia de los Muertos (Day of the Dead). The women then invited me to their home for a traditional meal of black mole turkey tamales. The tamales were made with corn masa. Black mole and turkey filled the masa dough. Then a banana leaf was used to wrap the filled masa. Finally, this bundle was steamed and ready to be eaten. The tamales were served with Oaxacan hot chocolate, pan de muerto and, of course, mezcal.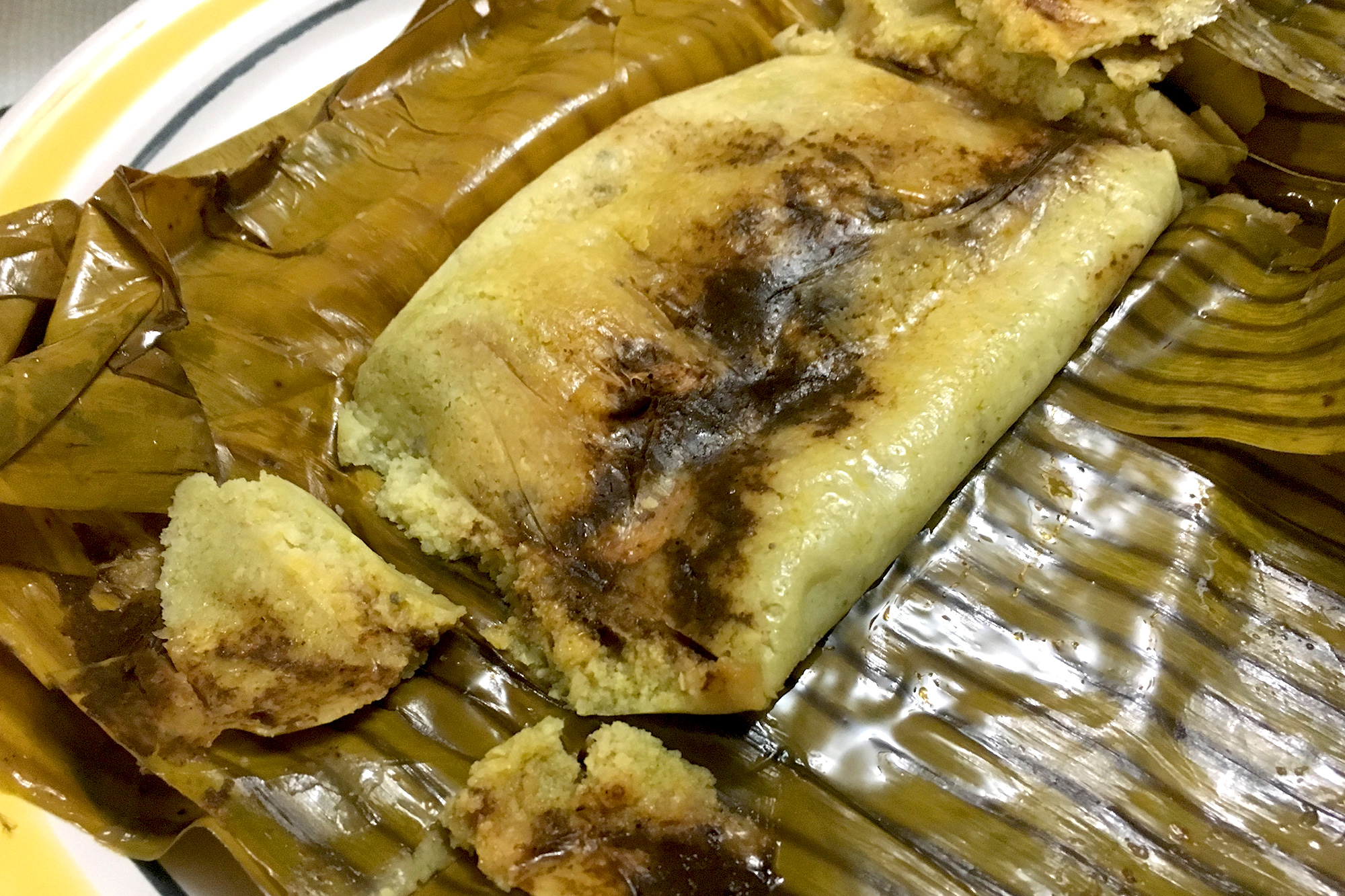 It was an honor to be invited to such a lovely dinner and invited to a meal that took hours to prepare. Each ingredient in the sauce needs special attention before all coming together into the sauce eaten only on the most special of occasions. Mole negro ingredients typically include a sauce base of dry chiles, tomatoes, tomatillos, onion, and garlic. A variety of flavors such as nuts, seeds, herbs, spices, and even plantain enhance the sauce base. And of course, a little chocolate. This is why mole is often -and mistakenly- called chocolate sauce. The process of preparing mole negro can include complicated methods such as burning chile seeds with fire. It is these type of techniques and ingredients that come together to make this masterpiece.
Mole Negro Ingredients
Mole negro recipes vary from kitchen to kitchen. However, many recipes contain common ingredients.
Some of the dried chiles you'll find used in mole negro are:
Chipotle Meco
Guajillo
Chihuacle
Ancho
Some of the herbs, spices, nuts and seeds you might find in a black mole:
Almonds
Raisins
Thyme
Cumin
Sesame Seeds
Chile Seeds
Other ingredients that come together to make the sauce:
Tomatoes (fresh)
Tomatillos (fresh)
Onion
Garlic
Plantain
Chocolate
Read more about mole ingredients used in authentic recipes.